People Flow Management Systems
We design, develop and integrate into your business the best solution for managing people flows so that your customers have an unbeatable user experience in your business.
At DINAV Solutions we look for the best solutions for queue management, with solutions for Capacity Control in shops and businesses that normally have a large influx of people. There are many benefits that can be obtained such as a decrease in the stress caused by waiting times for customers. We are committed to the integration of new technologies that allow a profound transformation of companies.

For this we implement Shift Displays, Auto check in machines…  optimising your business and achieving a synchronised and controlled functionality. This type of Appointment Management systems allow the synchronisation with several workstations at the same time and through its LED screens the information is provided to the customer with a double benefit by being able to manage queues more effectively and support the dissemination of information.
Time & Attendance and Stock Management and Control Systems
We provide you with the necessary tools for time and attendance and stock control.
Digitalisation of Shopping Centres and Stores
We create high-impact projects.
Hardware installation and Server racks
Server, Rack and connection equipment.
Audiovisual Systems
Design, Installation and Maintenance of Audiovisual solutions for corporate headquarters and Points of Sale.
Technology & CCTV
Our projects integrate the latest security technologies, including video surveillance systems.
Installation and maintenance of DPC systems.
Installation and maintenance of Servers, Racks and Connections.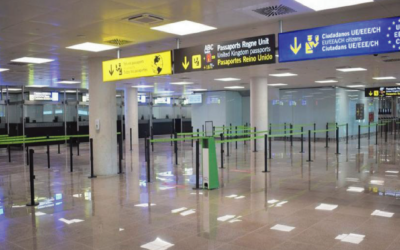 We carried out works for the refurbishment of Barcelona Airport, where we carried out the design, installation of furniture and installation of hardware and software for people management..
read more
DINAV Solutions S.L. © 2022  -  All rights reserved.