Computer Systems and Networks
Design, installation and maintenance
COMPUTER SYSTEMS AND NETWORKS
Design, installation and maintenance of computer equipment and networks.

Our services are developed according to the needs of the client and their projects. We have an integral vision of the project, offering hardware solutions (communications equipment, servers, storage cabinets, firewalls, cabling), installation and maintenance solutions for Data Processing Centres (DPC's) and implementing the necessary networks.
IT Systems
Design, Installation and Maintenance
Hardware installation and Server racks
Server, Rack and connection equipment.
Voice and data networks
Design, Installation and Maintenance of Voice and Data Networks and Electrical Installations.
Installation and maintenance of DPC systems.
Installation and maintenance of Servers, Racks and Connections.
Digitalisation of Shopping Centres and Stores
We create high-impact projects.
Technology & CCTV
Our projects integrate the latest security technologies, including video surveillance systems.
Office Design & Installation
Fitting out of office space and Headquarters
Time & Attendance and Stock Management and Control Systems
We provide you with the necessary tools for time and attendance and stock control.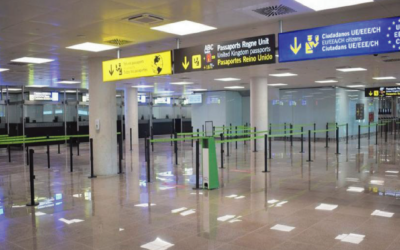 We carried out works for the refurbishment of Barcelona Airport, where we carried out the design, installation of furniture and installation of hardware and software for people management..
read more
DINAV Solutions S.L. © 2022  -  All rights reserved.