Fitting out of Offices and Spaces
We design, develop and integrate workspaces and offices to the new technologies, generating workspaces that allow our clients not to limit their growth and development.
At DINAV Solutions we are committed to the integration of new technologies that allow a profound transformation of companies. Therefore, this transformation by integrating new technologies will provide the company with several key elements in its growth: the workplace as a competitive advantage, favouring employee satisfaction at work, increasing mobility and remote work, greater integration between work and personal life, and the intensification of the culture of sharing. And in all of this, DINAV Solutions designs and develops integrative projects where the latest technologies (artificial intelligence, digital tools or cloud communication systems) complement and adapt the workspaces.
Office Design & Installation
Fitting out of office space and Headquarters
Digitalisation of Shopping Centres and Stores
We create high-impact projects.
Audiovisual Systems
Design, Installation and Maintenance of Audiovisual solutions for corporate headquarters and Points of Sale.
Voice and data networks
Design, Installation and Maintenance of Voice and Data Networks and Electrical Installations.
Installation and maintenance of DPC systems.
Installation and maintenance of Servers, Racks and Connections.
Technology & CCTV
Our projects integrate the latest security technologies, including video surveillance systems.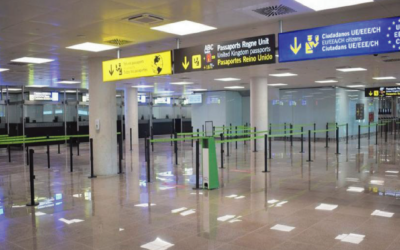 We carried out works for the refurbishment of Barcelona Airport, where we carried out the design, installation of furniture and installation of hardware and software for people management..
read more
DINAV Solutions S.L. © 2022  -  All rights reserved.